Nursing and Healthcare Leadership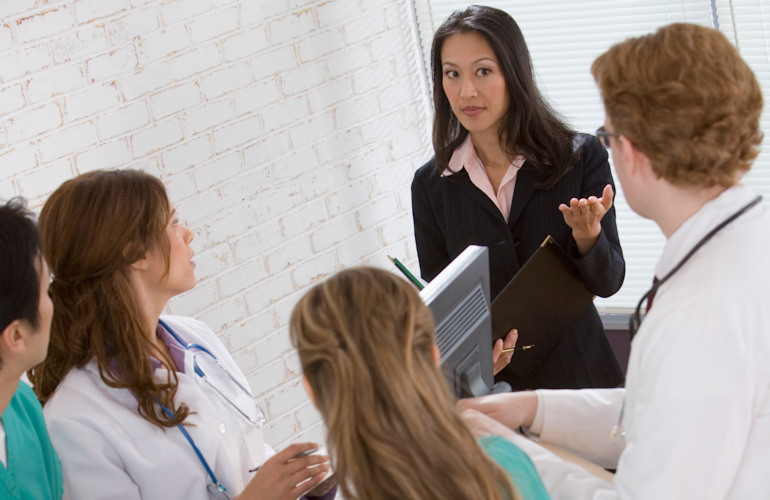 The Nursing and Healthcare Leadership (NHL) major prepares nurses for leadership positions across the complex and dynamic health care continuum. The program emphasizes content from all nurse executive competency domains (AONE, 2011) including communication and relationship building, knowledge of the health care environment, leadership skills, professionalism, and business skills. Students build a systems-thinking approach to patient care, starting with clinical microsystems as a building block. The use of evidence to shape decisions is emphasized through coursework in nursing informatics, decision support, business planning, and outcomes and care transitions management.
Nursing Leadership Preparation
Graduates of the NHL program are prepared for a variety of nursing leadership roles including nurse manager, clinical microsystem leader, case manager, quality-improvement specialist and program or project manager. Coupled with appropriate experience, graduates may be prepared for advanced roles in nursing informatics, or as a nursing director or executive. Those with requisite experience may be eligible to seek certification in case management, nursing informatics, or as a nurse executive.
Program Requirements and Delivery
The post-BSN to DNP with MSN exit with a major in NHL requires a total of 63 credits. A total of 39 credit hours and 268 internship and clinical hours are required for the MSN exit where the Master of Science in Nursing is conferred. An additional 24 credits and additional clinical hours are required for the completion of the DNP. The program is taught in an engaging online format that is flexible and student-centered. Students need not be a resident of Michigan to enroll in the program. Clinical sites and qualified preceptors are identified near the student's home to complete the required internship/clinical hours.
A Note to Online Students
It is the responsibility of all applicants applying for admission in an online graduate nursing program to confirm if the program meets specific licensure requirements in the applicant's state of residence. Applicants may contact the applicable licensing board.
Learn more about NHL
We offer online information sessions.
Find a graduate nursing program information session 
 

Sample Program Plan

Full-time and Part-time Options

The McAuley School of Nursing is committed to flexibility in the program and therefore offers both full- and part-time options for degree completion. Full-time study can be completed in two years with some courses offered during the summer semester. Additionally, the program is offered online with course meetings scheduled in the evening to accommodate working adults.  The master of science degree in nursing is conferred at the completion of the program requirements.

 

Required Courses

MSN Integrated Core

NUR 5030

Analytic Methods for Clinical Practice

3 credits

HLH 7100

Health Care Policy, Economics and the Law in Clinical Practice

3 credits

NUR 7000

Advanced Theory & Knowledge Development for Clinical Practice

3 credits

NUR 7300

Transformational Leadership & Innovation in Advanced Practice

3 credits

NUR 7400

Information Management & Decision Support

3 credits

NUR 7500

Evidence-Based Nursing Practice: Theory, Design & Methods

3 credits

Advanced Practice Core

NUR 5170

Management & Leadership in Nursing

2 credits

HLH 5040

Accounting & Financial Management for Nursing Leadership

4 credits

NUR 5910

Nursing & Healthcare Leadership Internship

3 credits

NHL Concentration Courses

NUR 5350

Outcomes Management & Decision Support in Nursing

3 credits

NUR 5420

Management of the Health Care Environment

2 credits

NUR 5450

Business Planning for Nurse Leaders

2 credits

NUR 5650

Population Health & Care Transitions Management

2 credits

NUR 5830

Leadership & Quality Improvement in Clinical Microsystems

3 credits

DNP Integrated Core

NUR 7700

DNP Transition

3 credits

NUR 7200

Epidemiology & Population Health

3 credits

NUR 7350

Business Management to Ensure Quality in Health Care

3 credits

ETH 7010

Ethical Issues in Advanced Nursing Practice

3 credits

NUR 7450

Analytics for Evidence Based Practice

3 credits

NUR 7800

Project Proposal Development

3 credits

NUR 7900

DNP Clinical Practicum & Project Implementation

3 credits

NUR 7920

DNP Doctoral Project

3 credits

Total Credits: 63 credits (39 for MSN conferral and 24 for completion of DNP)

For more information on courses descriptions, please click here for the catalog.