College of Health Professions & McAuley School of Nursing
Adult-Gerontology Clinical Nurse Specialist (Master's, Post-Master's, DNP options)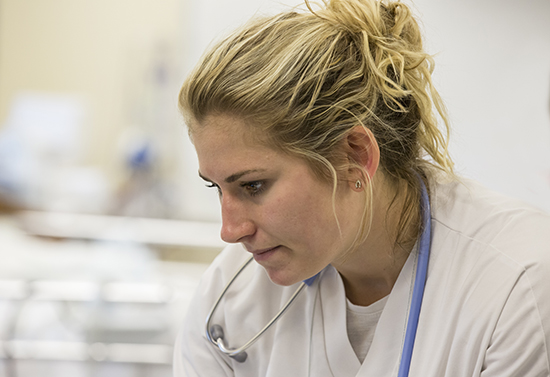 Becoming an Advanced Practice Registered Nurse (APRN) in the role of the Clinical Nurse Specialist (CNS) is a transformational experience. Students develop clinical expertise, lead nursing care and make real change happen at the bedside and in the boardroom. They can speak concisely about the importance of their role. They know the outcomes of CNS practice. They know those outcomes are critical to the viability of healthcare systems today and they know the CNS role is essential.
Our students experience the full breadth of the CNS role as a prescriber, coach for patients and staff, team builder and change agent, while improving quality of care and the bottom line for healthcare systems. Our students take the role across healthcare settings from acute to non-acute care.
Our graduates know who they are when they graduate and are practice-ready. Our 2016-2017 graduates have achieved a 100 percent pass rate for the national certification exams for the Adult-Gerontology CNS through ANCC (non-acute care CNS), AACN (critical care CNS) and ONC-C (oncology). The Detroit Mercy experience is transformational.
In addition, 100 percent of graduates are employed in CNS roles, care coordination, academia and across settings to include telemedicine. CNSs saw the highest pay spikes among APRNs in 2017 up to $102,000, which is a 7.4 percent than 2015 (Medscape APRN Compensation Report 2017).
We have a dynamic group of CNS faculty willing to spend the time it takes to make your experience at Detroit Mercy the best it can be. We know graduate studies are an important aspect of your lives and that life continues to move forward in unexpected ways. As a result, our faculty maintain an atmosphere of rigor with flexibility and will work diligently with any student who needs extra support. Students choose their pace. Our students say great things about their Detroit Mercy experience. That is the Detroit Mercy way.
We look forward to helping you transform your life and career!
A Note to Online Students
It is the responsibility of all applicants applying for admission in an online graduate nursing program to confirm if the program meets specific licensure requirements in the applicant's state of residence. Applicants may contact the applicable licensing board.
For Program-Specific Information
For more information about this program or any graduate nursing program, please contact Ms. Suzanne Erwin, BA, BSN, RN, Graduate Nurse Recruiter at 
erwinsm@udmercy.edu
 or 313-993-1828.
 

Required Courses

MSN Integrated Core


NUR 5030

Analytic Methods for Clinical Practice

3 credits

HLH 7100

Health Care Policy, Economics and the Law in Clinical Practice

3 credits

NUR 7000

Advanced Theory & Knowledge Development for Clinical Practice

3 credits

NUR 7300

Transformational Leadership & Innovation in Advanced Practice

3 credits

NUR 7400

Information Management & Decision Support

3 credits

NUR 7500

Evidence-Based Nursing Practice: Theory, Design & Methods

3 credits

Advanced Practice Core

NUR 5160

Advanced Health Assessment

3 credits

HLH 5900

Advanced Pathophysiology

3 credits

NUR 5800

Pharmacology for Advanced Practice

3 credits

NUR 6030

Professional Role Development for Business Practice

2 credits

AGCNS Concentration Courses

NUR 5748

Adult-Gerontology CNS Role & Theory 1

3 credits

NUR 5749

Adult-Gerontology CNS Practicum I

2 credits

NUR 5751

Wellness Adult-Gerontology CNS Practice

2 credits

NUR 5752

Adult-Gerontology CNS Role & Theory II

3 credits

NUR 5753

Adult-Gerontology CNS Practicum II

2 credits

DNP Integrated Core

NUR 7700

DNP Transition

3 credits

NUR 7200

Epidemiology & Population Health

3 credits

NUR 7350

Business Management to Ensure Quality in Health Care

3 credits

ETH 7010

Ethical Issues in Advanced Nursing Practice

3 credits

NUR 7450

Analytics for Evidence Based Practice

3 credits

NUR 7800

Project Proposal Development

3 credits

NUR 7900

DNP Clinical Practicum & Project Implementation

3 credits

NUR 7920

DNP Doctoral Project

3 credits

Total Credits: 66 credits (41 for MSN conferral and 25 for completion of DNP)

For more information on courses descriptions, please click here for the catalog.

 

Adult-Gerontology Clinical Nurse Specialist Post-Master's Certificate

Becoming an Advanced Practice Registered Nurse (APRN) in the role of the Clinical Nurse Specialist (CNS) is a transformational experience. Students develop clinical expertise, lead nursing care and make real change happen at the bedside and in the boardroom. They can speak concisely about the importance of their role. They know the outcomes of CNS practice. They know those outcomes are critical to the viability of healthcare systems today and they know the CNS role is essential.

Our students experience the full breadth of the CNS role as a prescriber, coach for patients and staff, team builder and change agent, while improving quality of care and the bottom line for healthcare systems. Our students take the role across healthcare settings from acute to non-acute care.

Our graduates know who they are when they graduate and are practice-ready. Our 2016-2017 graduates have achieved a 100 percent pass rate for the national certification exams for the Adult-Gerontology CNS through ANCC (non-acute care CNS), AACN (critical care CNS) and ONC-C (oncology). The Detroit Mercy experience is transformational.

In addition, 100 percent of graduates are employed in CNS roles, care coordination, academia and across settings to include telemedicine. CNSs saw the highest pay spikes among APRNs in 2017 up to $102,000, which is a 7.4 percent than 2015 (Medscape APRN Compensation Report 2017).

We have a dynamic group of CNS faculty willing to spend the time it takes to make your experience at Detroit Mercy the best it can be. We know graduate studies are an important aspect of your lives and that life continues to move forward in unexpected ways. As a result, our faculty maintain an atmosphere of rigor with flexibility and will work diligently with any student who needs extra support. Students choose their pace. Our students say great things about their Detroit Mercy experience. That is the Detroit Mercy way.

We look forward to helping you transform your life and career! 

Online Program

The program is taught on-line in a flexible and student-centered format with course and faculty availability seven days a week. Students need not be a resident of Michigan to be in the program. Clinical sites and qualified preceptors are identified near the student's home to complete the required clinical component in the role of the CNS.

A Note to Online Students

It is the responsibility of all applicants applying for admission in an online graduate nursing program to confirm if the program meets specific licensure requirements in the applicant's state of residence. Applicants may contact the applicable licensing board.

Certification

Upon completion of the Post-Master's certificate, the nurse will be eligible to sit for the examination for the Adult-Gerontology Clinical Nurse Specialist certification through the American Nurses Credentialing Center or the American Association of Critical Care Nurses.

 

Learn more about the CNS role