Family Nurse Practitioner (Post-BSN to DNP)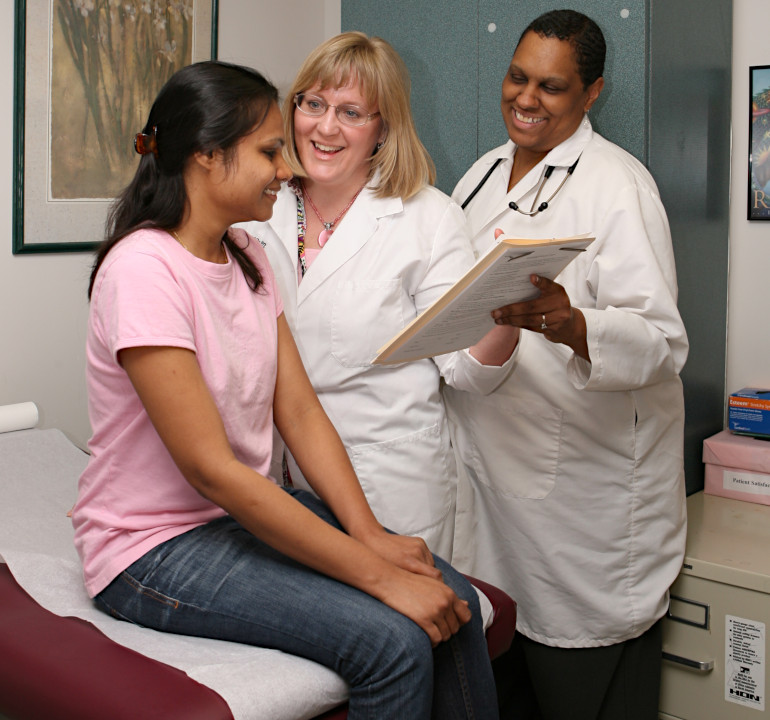 The Family Nurse Practitioner (FNP) major prepares the advanced practice nurse to provide primary health care services across the lifespan to individuals, families and aggregates in the community.  Besides primary care services, critical foci include practice models which emphasize the family as unit, health promotion and disease prevention and interdisciplinary collaboration.
The goal of the FNP program is to prepare highly skilled and culturally sensitive advanced practice nurses who are committed to providing quality and cost effective primary care services to individuals, families and communities.  The program places special emphasis on providing services to the medically underserved. The MSON is committed to flexibility in the program and therefore offers both full-time and part-time options for degree completion.
The post-BSN to DNP with MSN exit with a major in FNP requires a total of 71 credits. A total of 47 credit hours and 750 clinical hours must be completed for the MSN exit where the Master of Science in Nursing is conferred. An additional 24 credits and additional clinical hours are required for the completion of the DNP.
As a graduate of the class of 2009, I can still say that it was the best and most rewarding choice that I made in my nursing career. Friendships made with classmates and instructors has stayed with me for life.
— Samantha L., '09
FNP Program Certification Examinations
Successful completion of the McAuley School of Nursing (MSON) graduate APRN nursing program qualifies the graduate to take the appropriate national certification examination (FNP: AANPCB or ANCC) for their specialty. Graduates who plan to practice in Michigan may find more information on licensure at Licensing and Regulatory Affairs, phone 517-241-0199, or email BPLHelp@michigan.gov. 

The University of Detroit Mercy has not made a determination of whether the nursing curriculum meets the educational requirements in any State other than Michigan. Students are urged to contact the specific board of nursing in the state in which they intend to practice in order to ensure they are in full compliance with the education, practice and certification requirements. It is the responsibility of all applicants applying for admission in an online graduate nursing program to confirm if the program meets specific licensure requirements.
Meet with Program Faculty
Detroit Mercy FNP faculty would be glad to meet with you. Please attend an upcoming FNP session listed on our Nursing information sessions page.
 

Admission Requirements

Admission criteria for the post BSN to DNP with Master's exit program include:

A baccalaureate degree in nursing from a nationally accredited program.

RNs with a baccalaureate degree in another field could qualify for the MSN bridge program. The baccalaureate degree must be from an accredited program. Each application will be individually assessed to determine courses needed to bridge into the MSN program. This gap analysis will determine what additional courses will be required at the baccalaureate level to ensure they have met the prerequisites necessary for graduate education in nursing. 

A minimum cumulative undergraduate GPA of 3.0.
Official transcripts from 

each

 institution of higher education attended.
A preferred minimum of 2,000 hours as a registered nurse.*
A current unencumbered license to practice as a Registered Nurse in the state of Michigan, or in the state of home residence.
Three letters of professional recommendation with at least one from someone in supervisory capacity.
Professional CV or current resume.
An autobiographical statement of personal goals and objectives.
An interview with graduate faculty (selective, by invitation).

Attention FNP Applicants: A cohort is admitted annually, in the fall.  All of the above-mentioned application materials must be submitted and received by the June 30, 2023 deadline to be considered for regular admission to the program; however, prospective applicants are encouraged to submit and complete their application files early (December 1). Admission is selective as a limited number of seats are available annually.  The application process for fall 2023 is a rolling process.  Once the class has been filled, no further applications may be considered. We are currently considering candidates for entry fall 2024.

 

Sample Program Plan - Part Time

A program of part-time study can be completed in three years.

BSN to DNP with Master's Exit Family Nurse Practitioner

Year 1

Fall - 6 total credit hours

HLH 5900 Advanced Pathophysiology (3.0 credits)
NUR 7000 Advanced Theory and Knowledge Development for Clinical Nursing Practice (3.0
credits)

Winter - 6 total credit hours

NUR 5800 Pharmacology for Advanced Practice Nurses (3.0 credits)
NUR 7400 Information Management and Decision Support (3.0 credits)

Summer - 6 total credit hours

NUR 5030 Analytic Methods for Clinical Practice (3.0 credits)

NUR 7500 Evidence-Based Practice: Theory, Design and Methods (3.0 credits)

Year 2

Fall - 5 total credit hours

NUR 5150 Health Promotion Across the Lifespan (3.0 credits)
NUR 5160 Advanced Health Assessment (2.0 credits [2 theory, 1 lab])

Winter - 5 total credit hours

NUR 5250 Common and Episodic Problems (3.0 credits)
NUR 5260 Clinical Practicum II (2.0 credits [250 clinical hours])

Summer - 6 total credit hours

HLH 7100 Health Care Policy, Economics and the Law in Clinical Practice (3.0 credit hours)
NUR 7300 Transformational Leadership and Innovation in Advanced Clinical Practice
(3.0 credits)

Year 3

Fall - 6 total credit hours

NUR 6130 Procedures and Diagnostics Workshop for the APN (1.0 credits [lab])
NUR 6150 Chronic and Complex Problems Across the Lifespan (3.0 credits)
NUR 6160 Clinical Practicum III (2.0 credits [250 clinical hours])

Winter - 7 total credit hours

NUR 6030 Professional Role Development and Business Practices (2.0 credits)
NUR 6250 Psychosocial Issues and Health Integration (3.0 credits)
NUR 6260 Clinical Practicum IV (2.0 credits [250 clinical hours])

---

MSN awarded – total MSN credits = 47

---


BEGIN DNP CORE

Summer - 6 total credits

NUR 7200 Epidemiology and Population Health (3.0 credits)
NUR 7700 DNP Transition (3.0 credits)

Year 4

Fall - 6 total credit hours

NUR 7350 Business Management to Ensure Quality in Health Care (3.0 credits)
NUR 7800 Project Proposal Development (3.0 credits)

Winter - 6 total credit hours

NUR 7450 Analytics for Evidence-Based Practice (3.0 credits)
NUR 7900 DNP Practicum and Project Implementation (3.0 credits)

Summer - 6 total credit hours

ETH 7010 Ethical Issues in Advanced Nursing Practice (3.0 credits)
NUR 7920 DNP Doctoral Project (3.0 credits)

---

DNP awarded – total DNP credits = 71

---

 

 

Sample Program Plan - Full-time

Full-time study can be completed in two years with some courses offered during the summer semester.

BSN to DNP with Master's Exit Family Nurse Practitioner

Year 1

Fall 11 total credit hours

HLH 5900 Advanced Pathophysiology (3.0 credits)
NUR 5150 Health Promotion Across the Lifespan (2.0 credits)
NUR 5160 Advanced Health Assessment (3.0 credits [2 theory, 1 lab])
NUR 7000 Advanced Theory and Knowledge Development for clinical Nursing Practice (3.0
credits)

Winter - 11 total credit hours

NUR 5800 Pharmacology for Advanced Practice Nurses (3.0 credits)
NUR 5250 Common and Episodic Problems (3.0 credits)
NUR 5260 Clinical Practicum II (2.0 credits [250 clinical hours])
NUR 7400 Information Management and Decision Support (3.0 credits)

Summer - 9 total credit hours

NUR 5030 Analytic Methods for Clinical Practice (3.0 credits)
NUR 7300 Transformational Leadership and Innovation in Advanced Clinical Practice
(3.0 credits)
NUR 7500 Evidence-Based Practice: Theory, Design and Methods (3.0 credits)

Year 2

Fall - 9 total credit hours

NUR 6150 Chronic and Complex Problems Across the Lifespan (3.0 credits)
NUR 6160 Clinical Practicum III (2.0 credits [250 clinical hours])
NUR 6130 Procedures and Diagnostics Workshop for the APN (1.0 credits [lab])
HLH 7100 Health Care Policy, Economics and the Law in Clinical Practice (3.0 credits)

Winter - 7 total credit hours

NUR 6250 Psychosocial Issues and Health Integration (3.0 credits)
NUR 6260 Clinical Practicum IV (2.0 credits [250 clinical hours])
NUR 6030 Professional Role Development and Business Practices (2.0 credits)

---

MSN awarded – total MSN credits = 47

---

BEGIN DNP CORE

Semester 1 - 6 total credit hours

NUR 7700 DNP Transition (3.0 credits)
NUR 7200 Epidemiology and Population Health (3.0 credits)

Year 3

Semester 2 - 6 total credit hours

NUR 7800 Project Proposal Development (3.0 credits)
NUR 7350 Business Management to Ensure Quality in Health Care (3.0 credits)

Semester 3 - 6 total credit hours

NUR 7900 DNP Practicum and Project Implementation (3.0 credits)
NUR 7450 Analytics for Evidence-Based Practice (3.0 credits)

Semester 4 - 6 total credit hours

ETH 7010 Ethical Issues in Advanced Nursing Practice (3.0 credits)
NUR 7920 DNP Doctoral Project (3.0 credits)

---

DNP awarded – total DNP credits = 71

---

 

 

Required Courses

 

Family Nurse Practitioner Post-Master's Certificate

The Post-Master's Family Nurse Practitioner Graduate Certificate option is available to applicants that have already earned a master of science in Nursing degree with a major in Nursing from an accredited program. This certificate program does not lead to an academic degree from the University of Detroit Mercy.

The graduate Family Nurse Practitioner Post-Master's Certificate Program requires 29 credit hours of coursework and 750 clinical hours (500 clinical hours for certified nurse practitioners in a specialty outside of FNP who are active). An individualized program of study will be designed based on an applicant's prior academic coursework and professional and clinical experiences.

Transcripts from prior academic institutions will be reviewed by the FNP program coordinator/advisor to determine an applicant's specific program of study and a gap analysis will be completed. The FNP program does not accept any clinical courses (theory or didactic) or advanced health assessment as transfer courses. If courses in professional role, pathophysiology and pharmacology have been completed prior to admission to the certificate program and are equivalent to the course content in approved MSON courses, they may be transferred to the program.

Certification

Full-time and part-time options are available for program completion. Graduates of the FNP Post-Master's Certificate program are eligible to sit for the Family Nurse Practitioner certification exam offered by the American Nurses Credentialing Center (ANCC) or American Academy of Nurse Practitioners Certification Board (AANPCB).

Post-Master's Certificate: Family Nurse Practitioner Sample Program Plan

Year 1

Fall - 8 total credit hours

HLH 5900 Advanced Pathophysiology (3.0 credits)
NUR 5150 Health Promotion Across the Lifespan (2.0 credits)
NUR 5160 Advanced Health Assessment (3.0 credits [2 theory, 1 lab])

Winter - 8 total credit hours

NUR 5800 Pharmacology for Advanced Practice Nurses (3.0 credits)
NUR 5250 Common and Episodic Problems (3.0 credits)
NUR 5260 Clinical Practicum II (2.0 credits [250 clinical hours])

Year 2

Fall - 6 total credit hours

NUR 6150 Chronic and Complex Problems Across the Lifespan (3.0 credits)
NUR 6160 Clinical Practicum III (2.0 credits [250 clinical hours])
NUR 6130 Procedures and Diagnostics Workshop for the APN (1.0 credits [lab])

Winter - 7 total credit hours

NUR 6250 Psychosocial Issues and Health Integration (3.0 credits)
NUR 6260 Clinical Practicum IV (2.0 credits [250 clinical hours])
NUR 6030 Professional Role Development and Business Practices (2.0 credits)

---

This program plan may change dependent upon a gap analysis.
Clinical contact hours = 750

---