College of Health Professions & McAuley School of Nursing
Nursing Education (NE)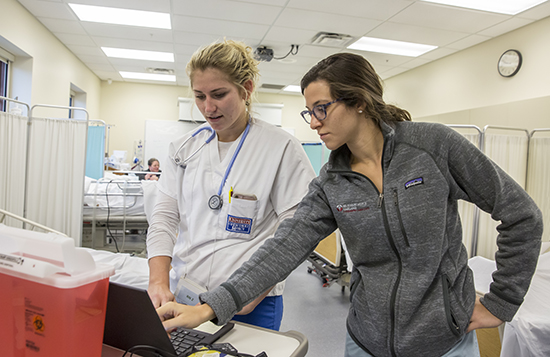 The nursing education major provides the opportunity to learn the principles and practice of education for the preparation of individuals for the role of educator. There is an emphasis on curriculum development and evaluation, course design, teaching/learning methodologies, and assessment of student learning in classroom and clinical settings. The program includes a 120-hour teaching practicum. During the teaching practicum, students will work with master teachers to become fully immersed in the role and responsibilities of a faculty member. Students also have the opportunity to complete a 120-hour clinical practicum in advanced nursing. Students are urged to contact the specific Board of Nursing in the state in which they intend to practice in order to ensure they are in full compliance with the education, practice and certification requirements
The post-BSN to DNP with MSN exit with a Nursing Education major requires a total of 70credits. A total of 39 credit hours and 120 teaching practicum and 120 clinical hours must be completed for the MSN exit where the Master of Science in Nursing is conferred. Since the nursing education major does not include an advanced nursing practice major, these students complete an Executive Leadership bridge (6 credits) to bridge to the DNP. An additional 25 credits and additional clinical hours are required for the completion of the DNP.
The program is taught in an engaging online format that is flexible and student-centered. Full-time and part-time options are available for degree completion.
A Note to Online Students
It is the responsibility of all applicants applying for admission in an online graduate nursing program to confirm if the program meets specific licensure requirements in the applicant's state of residence. Applicants may contact the applicable licensing board.
For Program-Specific Information
For more information about this program or any graduate nursing program, please contact Ms. Suzanne Erwin, BA, BSN, RN, Graduate Nurse Recruiter at erwinsm@udmercy.edu or 313-993-1828.
 

Required Courses

MSN Integrated Core

NUR 5030

Analytic Methods for Clinical Practice

3 credits

HLH 7100

Health Care Policy, Economics and the Law in Clinical Practice

3 credits

NUR 7000

Advanced Theory & Knowledge Development for Clinical Practice

3 credits

NUR 7300

Transformational Leadership & Innovation in Advanced Practice

3 credits

NUR 7400

Information Management & Decision Support

3 credits

NUR 7500

Evidence-Based Nursing Practice: Theory, Design & Methods

3 credits

Advanced Practice Core

NUR 5500

Physical Assessment & Advanced Pharmacology

4 credits

HLH 5900

Advanced Pathophysiology

3 credits

NUR 5795

Advanced Nursing Seminar & Practicum

3 credits

NE Concentration Courses

NUR 5780

Nursing Curriculum & Instruction in Adult Education

3 credits

NUR 5850

Curriculum Development

3 credits

NUR 5790

Nursing Program Planning & Evaluation

3 credits

NUR 5860

Instructional Methods

3 credits

NUR 5960

Teaching Practicum

2 credits

Organizational Leadership Bridge

NUR 5170

Management & Leadership in Nursing

2 credits

HLH 5040

Accounting & Financial Management in Nursing Leadership

4 credits

DNP Integrated Core

NUR 7700

DNP Transition

3 credits

NUR 7200

Epidemiology & Population Health

3 credits

NUR 7350

Business Management to Ensure Quality in Health Care

3 credits

ETH 7010

Ethical Issues in Advanced Nursing Practice

3 credits

NUR 7450

Analytics for Evidence Based Practice

3 credits

NUR 7800

Project Proposal Development

3 credits

NUR 7900

DNP Clinical Practicum & Project Implementation

3 credits

NUR 7920

DNP Doctoral Project

3 credits

Total Credits: 70 credits (39 for MSN conferral, 6 credits for DNP Organizational Leadership Bridge and 25 for completion of DNP)

For more information on courses descriptions, please click here for the catalog.

 

Nursing Education Post-Baccalaureate Certificate

The Nursing Education Certificate Program (14 credits) at the University of Detroit Mercy provides qualified nurses with the opportunity to learn the principles and practice of education for the preparation of individuals for nursing careers.

The certificate program includes learning in the areas of curriculum development and evaluation, course design, teaching/learning methodologies and assessment of student learning, in classroom and clinical settings. Nurses considering teaching in a nursing education program will benefit from studying the art and science of education, which is designed to promote the ability of nurses to facilitate others in learning the art and science of nursing.

Credits earned in this certificate program may be applied toward the master's degree in Nursing Education.

Objectives

Exemplify various teaching/learning strategies and approaches appropriate for classroom, laboratory and clinical settings.

Integrate facilitation of learner development and formation as nurses into personal growth as an educator.

Explain the processes of curricular design and evaluation of program outcomes.

Design and implement curriculum development and evaluation projects.

Develop a set of resources and a plan for ongoing self-development as an educator.

Differentiate the teaching, scholarship and service roles of the educator.