College of Health Professions & McAuley School of Nursing
Master's Entry Advanced Generalist Nursing (MEAGN)
For the non-nurse: a master's in nursing in less than 17 months

You don't need to be a nurse to earn a master's degree in nursing – in less than five semesters. If you have a bachelor's degree and want to take advantage of the growing need for nurses, our Master's Entry Advanced Generalist Nursing (MEAGN) program is designed for you. In less than a year and a half, you can begin a nursing career with a graduate-level degree. The first of its kind in Michigan, Detroit Mercy's MEAGN program offers:
Strong job outlook
Completion in less than 17 months
Preferred admission status at Detroit Mercy for post-graduate study
Master's-prepared advanced generalist nurses are educated to be highly qualified bedside nurses who can provide leadership in quality and safety at the point of care in healthcare systems.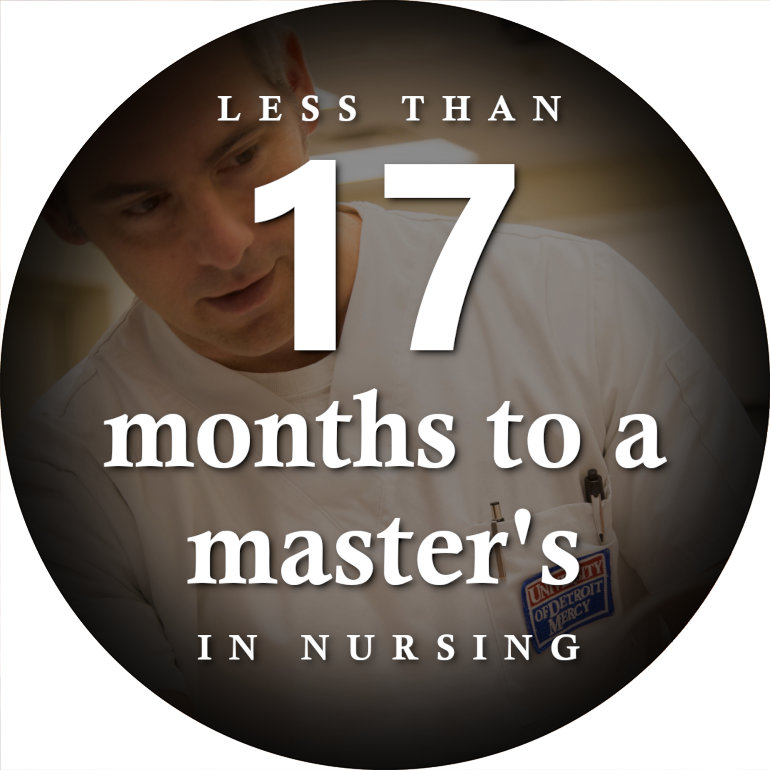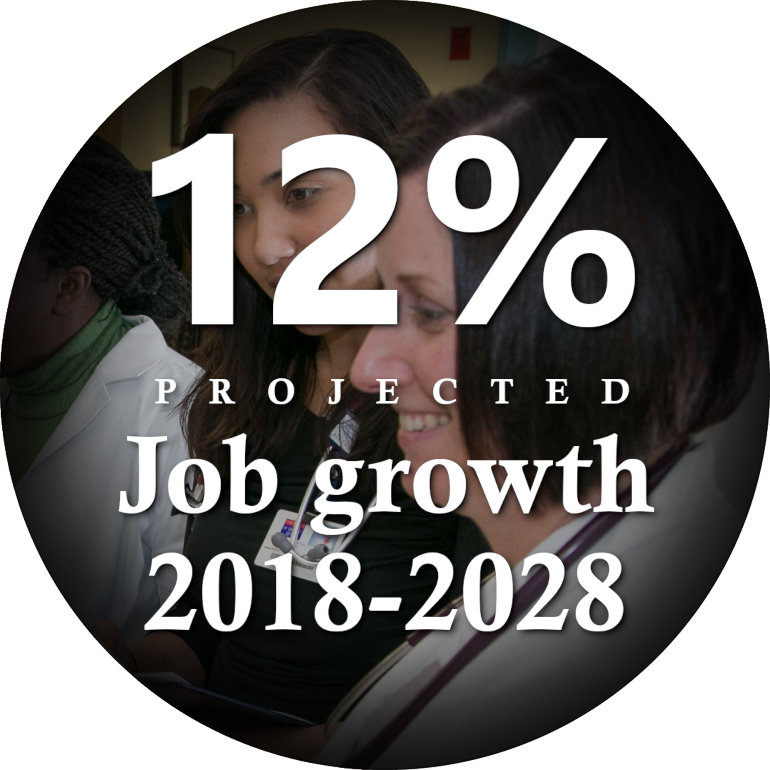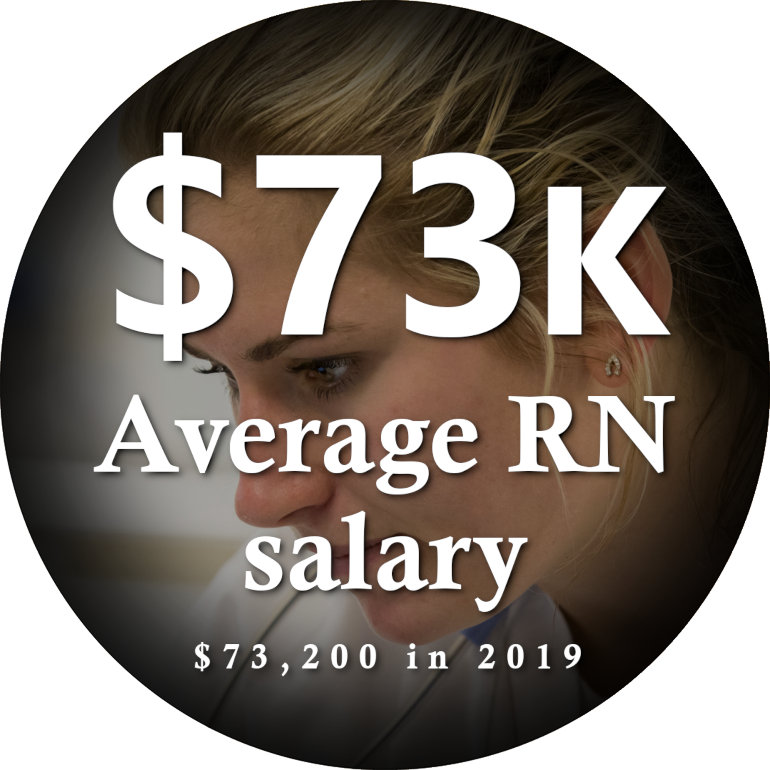 Strong job outlook
Employment of registered nurses is projected to grow 12 percent from 2018-28, much faster than the average for all occupations. In Michigan, average pay for RNs in 2019 was $73,200 per year, or $35.19 per hour. Nurses care for patients across the lifespan in multiple settings, from primary to intensive care. With a rising emphasis on health promotion and preventive care along with a growing population affected by chronic conditions such as diabetes and obesity, the demand for nurses is expected to remain strong.
Job titles for MEAGN graduates include:
Staff Nurse
Unit Coordinator
Clinical Manager
Care Coordinator
Clinical Educator
Quality Care Coordinator
Case Manager
The program
In just four and a half semesters – less than 17 months – graduates of the Master's Entry Advanced Generalist Nursing program qualify to be a registered nurse and earn a Master of Science degree in Nursing. Plus, MEAGN graduates receive preferred admission status at University of Detroit Mercy for post-graduate nursing certificate programs or the Doctorate of Nursing Practice Program. In addition:
MEAGN students participate in NCLEX preparation activities throughout the prelicensure courses to better prepare them for the exam to become a registered nurse.
Graduate-level courses such as Advanced Pathophysiology provide a solid foundation for additional graduate study in one of the Advanced Practice Nurse certificate programs offered within the McAuley School of Nursing.
The Systems Leadership, Quality Improvement and Informatics for Advanced Nursing Practice course prepares students to enter the workforce with leadership skills specific to quality and safety at the point of care.
As a Detroit Mercy student, you will be at the center of an educational journey that integrates intellectual, spiritual, ethical and social development. The McAuley School of Nursing (MSON) prepares compassionate and competent nurses who are committed to serve, lead and provide high-quality, cost-effective and culturally sensitive healthcare services to diverse individuals, families, communities and populations.
Congruent with the University's mission, MSON programs also focus on providing nursing care to underserved people in an urban context.
Program Details
 

Admission Criteria

Submission of completed application and all supplemental materials 6 months prior to the term to which they wish to be considered for entry.
Minimum baccalaureate cumulative grade point average of 3.25 preferred
Minimum cumulative GPA of 3.0 in sciences and math courses. Community college credit will be given consideration in determining the quality and level of preparation.
Evidence of experience in the health care field through employment, volunteering, or observational experiences.

Twelve prerequisite courses must be completed prior to the start of the program

English Composition II
Intermediate Algebra
Introduction to Psychology
Developmental (Lifespan) Psychology
Introduction to Sociology
Health Care Ethics
General Organic and Biological Chemistry
Anatomy
Physiology
Microbiology
Nutrition
Pathophysiology

All science courses, including mathematics, must have been completed within the last 5 years with grades of C+ or higher on each.  If courses have been repeated, a grade of B or higher is expected.

Supplemental Application Materials

Official transcripts from all colleges/universities attended.
For prerequisite courses in progress, a printed copy the current registration/course schedule.
Conferred bachelor's degree posted on the home institution's final transcript.
Updated transcripts, upon conclusion of each term/semester, posting results of recently completed academic course work.
Autobiographical Statement of Personal Goals and Objectives (Essay)

Introduction to members of the selection committee
Personal information (personality characteristics; challenges faced and overcome; personal achievements; why particular career-path selected)
Traits that support ability to succeed at the graduate level
Strategies to learn in the online environment
Ability to study in an accelerated format
Vision of self in the role of master's prepared advanced generalist nurse.

Letters of recommendation - a minimum of three are required. Please limit your references to a maximum of four.  The online recommendation system should be utilized, and letter attached to it. All letters ought to appear on official business or institutional letterhead, contain an original signature and the reference's professional title with contact information.  At least one letter should attest to the candidate's potential for leadership and ability to learn online at the graduate level. 
CV/Resume
Face to Face Interview
All international applicants, for whom English is not their native, must present evidence of meeting University and graduate nursing English Language Requirements.
Applicants who are non-citizens or non-permanent residents of the United States, please note additional requirements for International Students.

All program prerequisites must be completed at an accredited U.S. college/university.
An overseas bachelor's degree will be considered IF determined completed and U.S. equivalent on an official, course-by-course/detailed evaluation report prepared by Educational Credential Evaluators or World Education Services.

 

Program Plan

Prelicensure

Prelicensure courses

| Course code | Course Name | Credits |
| --- | --- | --- |
| NUR 5100 | Nursing Theory and Professionalism in the Mercy & Jesuit Traditions | 3 |
| NUR 5035 | Pharmacology for the Advanced Generalist Nurse | 3 |
| NUR 5135/5136 | Lifespan Nursing Care for the Generalist Nurse I: Fundamental & Foundational Care of Adults | 7 |
| NUR 5235/5236 | Lifespan Nursing Care for the Generalist Nurse II:  Acute and Chronic Care of Adults | 9 |
| NUR 5335/5336 | Lifespan Nursing Care for the Generalist Nurse III: Community Health | 3.5 |
| NUR 5337/5338 | Lifespan Nursing Care for the Generalist Nurse III: Mental Health and Psychiatric | 3.5 |
| NUR 5435/5436 | Lifespan Nursing Care for the Generalist Nurse IV: Pediatric Families | 3 |
| NUR 5437/5438 | Lifespan Nursing Care for the Generalist Nurse IV: Women & Families | 3 |
| NUR 5536 | Lifespan Nursing Care for the Generalist Nurse V:  Integrated Clinical Practice | 3 |

Master of Science Nursing

Master's degree courses

| Course code | Course Name | Credits |
| --- | --- | --- |
| HLH 5500 | Research Methods | 3 |
| HLH 5700 | Health Care Delivery and Policy Issues | 3 |
| NUR 5030 | Analytic Methods for Clinical Practice | 3 |
| NUR 5055 | Systems Leadership, Quality Improvement, and Informatics for Advanced Nursing Practice | 3 |
| NUR 5650 | Population Health & Care Transitions Management | 2 |
| HLH 5900 | Advanced Pathophysiology | 3 |


Total Credits: 55

Course Sequence

Download the Master's Entry Course Sequence (PDF) for a sample of what courses you might take each semester.