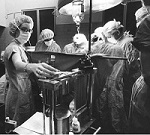 The Anesthesia Gas Machine
Michael P. Dosch CRNA PhD, Darin Tharp CRNA MS
University of Detroit Mercy Graduate Program in Nurse Anesthesiology
This site is http://healthprofessions.udmercy.edu/programs/crna/agm/.
Revised Mar 2016
ANESTHESIA GAS MACHINE> NEW GAS MACHINES> NEW CAPABILITIES, NEW ISSUES> ADVANCED VENTILATION, INTEGRATED MONITORING, LOW FLOWS, TRAINING, ELECTRONIC CHECKLIST
Purchasing new gas machines

Education and training (Advanced ventilation, Computer and monitor integration, Low flows, Laryngeal mask airway and mechanical ventilation, Electronic Checkout)
Operating costs
Installation of new machines
Purchasing new gas machines
What to consider when buying a new gas machine
How is anesthesia going to change in the next 15 years?
No one knows - but there are some indications already from patient population and demographics. The patient population will be both younger and older, sicker and bigger than today. This puts stress on the ventilation ability. Buy the best ventilator you can.
More spontaneous breathing. The LMA and the shift of all procedures to ambulatory are revolutionizing anesthesia practice. Buy a ventilator that allows pressure limited volume-guarantee ventilation - limit the pressure to protect the lungs.
Make sure that the pressure control is strong enough able to ventilate the difficult patients.
Make sure that the system doesn't restrict your future options. Make sure the machine you purchase will allow the exporting of fresh gas values and all monitor data to any information system or automated record-keeper. Make sure that whatever you buy can support an electronic anesthesia record.
With monitoring make sure that you are comfortable with the integrated monitoring.
Education and training
An anesthetist who knew how to use an Excel could easily walk up to a Modulus or any of the Narkomeds and use them with very few problems, and essentially no training time or reading. However, the new machine features such as advanced ventilation modes, computer and monitor integration, and the electronic checklist are very different than anything that has gone before. New models are substantially different- look at the three different approaches to flowmeters in the Aestiva or Aespire (mechanical needle valves and glass flowtubes), Fabius/Apollo (mechanical needle valves, electronic display of flows backed up by common gas outlet flowmeter), and Aisys and Perseus (all electronic, digital display in which the inspired oxygen, carrier gas flow, and total fresh gas flow are set). Comfort with one make and model translates much less to other models than it used to.
Furthermore, anesthesia practice is changing. Spontaneous ventilation for longer than a few moments during general anesthesia was rare. Now because of the laryngeal mask airway it is much more common. Cost of the volatile agents is substantial enough that low flows are undergoing somewhat of a renaissance. When users at a total fresh gas flow of 1 L/min find inspired oxygen dropping slowly, or a 2-3% difference between dialed and end-tidal desflurane in the middle of a case, they may have trouble remembering that these are expected findings as fresh gas flow decreases.
Comfort with the monitoring technology can be an issue. I know that a little ball in a glass tube would drop unless oxygen is flowing- a physical fact that I can sense. You mean my trust must now repose in a green bar graph??
The new machines simply cannot be used safely without a personal and institutional commitment to time spent in training and reading.
Operating costs
With the new machines, operating costs may be higher. Carefully compare the cost of disposables per case (e.g. spirometry tubing, carbon dioxide granule canisters, breathing circuits). This can be mitigated by several tactics:
Emphasis on low flows to decrease usage of volatile agent
Some machines permit use of loose carbon dioxide granules rather than single-use canisters
Installation of new machines
A few pearls from folks who have "been there":
Budget weekend training time. Don't skimp here- and make it mandatory for all attendings, CRNA's, students, and residents. Buy them lunch and arrange to get CEs or CMEs.
Work closely with the manufacturer's installation team. Invest some time in trying to foresee problems.
Don't assume in a multi-building installation, that everything that worked well in your new ambulatory center will function indentically in your aging main OR.
Check for suction adequacy. Open scavenger interfaces demand a lot of suction.
Make a plan for disposables early. Four days before "go-live", we found that our former breathing circuits, which we had "assumed" would fit, wouldn't.
Involve in the planning those anesthetists who are most familiar with obstetrics, pediatrics, ambulatory, and cardiovascular. All these areas have special needs for equipment.
Consider the pluses and minuses of integrated monitoring. The gas machine will last 10-15 years. Will you get tired of an integrated monitor before then, or wish you weren't locked into one company's monitoring solution? On the other hand, integrated monitors are compact, and there's a logic to the whole system that is very comfortable, once the initial learning curve is climbed.
Your temperature probe and transducer sales representatives will be happy to get cabling for you that lets their disposable sensors talk to anyone's monitor.
---
---