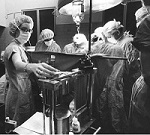 The Anesthesia Gas Machine
Michael P. Dosch CRNA PhD, Darin Tharp CRNA MS
University of Detroit Mercy Graduate Program in Nurse Anesthesiology
This site is http://healthprofessions.udmercy.edu/programs/crna/agm/.
Revised March 2016
ANESTHESIA GAS MACHINE>INTRODUCTION
About this site

History of site
The authors

Author's Disclosure Statement & Disclaimer
Acknowledgments

Other resources for learning

Internet resources
Resources in print
About this site
The purpose of this site is to teach and illustrate the current anesthesia gas machine, and related topics such as vaporization. The site is intended to benefit students, nurse anesthetists (CRNAs), physicians in anesthesiology, or anyone with an interest in anesthesia equipment.
History of site
This site has been in existence since 2000, originating as lecture notes for a graduate course in nurse anesthesia at the University of Detroit Mercy. These documents are copyright Michael P Dosch. You may use them for any non-profit purpose.
The authors
Michael Dosch CRNA PhD is Associate Professor and Chair of Nurse Anesthesia at the University of Detroit Mercy. His interests include anesthesia equipment, physics as related to monitors and equipment, and statistics. He has taught anesthesia equipment for almost 20 years, as well as spoken at professional conferences, written book chapters and published research on the topic.
Darin Tharp CRNA MS is a guest lecturer at University of Detroit Mercy. He is co-author of the chapter on Anesthesia Equipment in the 6th edition of Nurse Anesthesia, Nagelhout & Elisha eds.
Authors' Disclosure Statement & Disclaimer
The authors have no ongoing financial relationship with the manufacturers of any devices mentioned here.
The clinical recommendations made here are the author's personal opinions based on clinical practice, consultation with published materials and colleagues, and published research. Like all such clinical recommendations, they should be subjected to local peer review before adoption in other clinical settings.
Acknowledgments
The authors gratefully acknowledge the assistance of sales and technical representatives at Dräger Medical, Telford Pennsylvania, and GE Healthcare (Madison Wisconsin).
Finally, our gratitude to the nurse anesthesia students, CRNAs and physician colleagues at the University of Detroit Mercy, Allegiance Hospital, and Oakwood Hospital who constantly challenge and inspire us.
Other resources for learning
Internet resources:
Resources in print which are helpful
Dosch MP. Anesthesia equipment. In: Nagelhout J, Elisha S, eds. Nurse Anesthesia. The 6th edition is in preparation as of March 2016. Many figures and tables, extensively illustrated and referenced.
Venticinque and Andrews' chapter in Miller Anesthesia 8th ed. Well written and recommended.
J. Dorsch & S. Dorsch. Understanding Anesthesia Equipment 5th ed 2008: Williams & Wilkins. It's the Brittanica in the field. A must for anyone with a serious interest (or purchasing responsibilities).
Ehrenwerth & Eisenkraft. Anesthesia Equipment. 2013, 2nd ed. Well written. The chapters on vaporization and electrical safety are the clearest writing on these thorny topics in print. A very worthwhile reference.
---
---