Physician Assistant (PA) Program

Why are PAs in such high demand?
As the physician shortage intensifies, physician assistants (PAs) will provide a critical role in meeting the primary care needs of an aging population in the United States. The PA profession is one of today's fastest growing health care fields, and University of Detroit Mercy's Physician Assistant Program has been educating PAs for over half a century.
Physician assistants – also known as physician associates – are licensed to practice medicine with physician collaboration. Trained mainly in primary care, PAs conduct physical exams, diagnose and treat illnesses, order and interpret tests, counsel on preventive health care, assist in surgery and may also write prescriptions. PAs practice in family medicine, internal medicine, pediatrics, obstetrics/gynecology and surgery. They may also work in specialty fields such as cardiovascular surgery, orthopedics and emergency medicine. 
Detroit Mercy PA graduates go on to work in all areas of medicine and many can be found in leadership position in most of the major health systems in the metro Detroit area. Several of our graduates have continued their education in selective post graduate residencies. Find out more about the PA profession at the American Academy of Physician Associates (AAPA) website.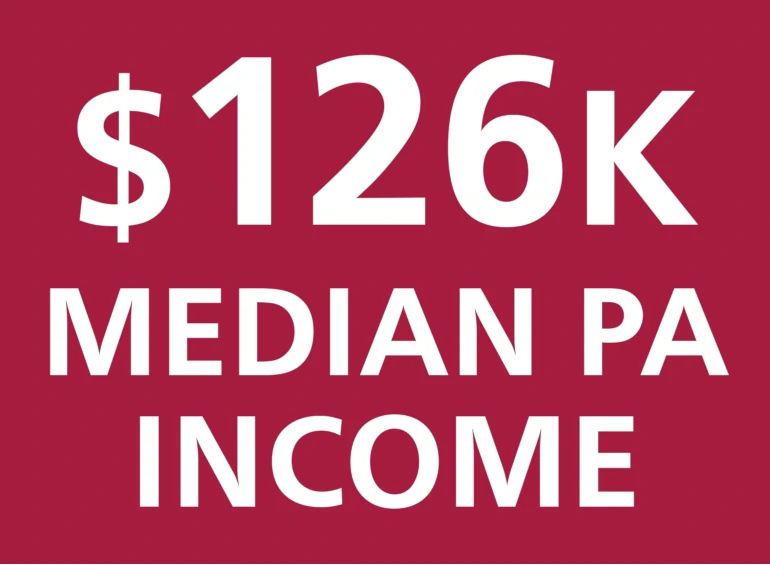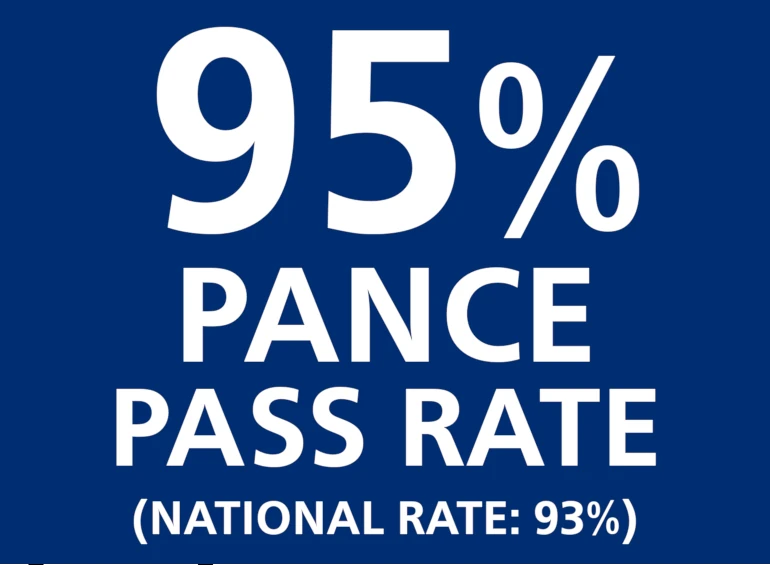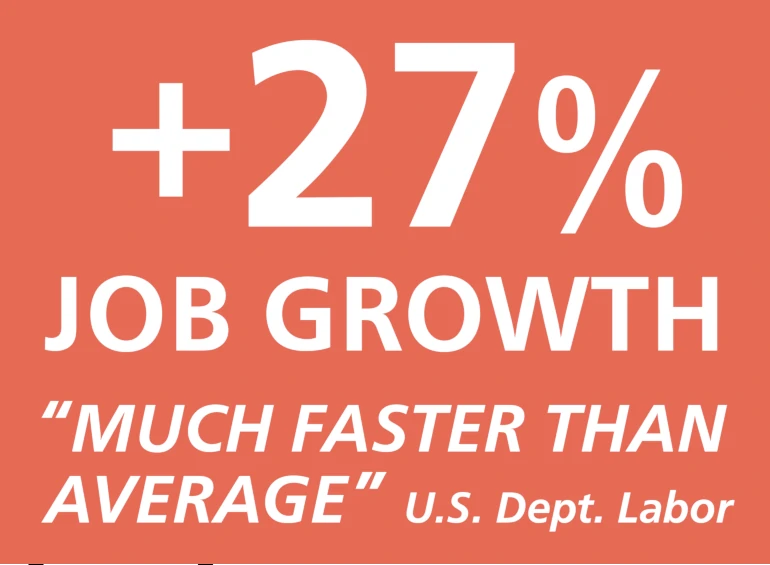 Earn your PA master's degree at UDM
The PA Program offers two-year and three-year tracks for graduate students to earn the Master of Science degree with a major in Physician Assistant. The University also offers undergraduate students pathways to pursue a PA education. Expand the sections below for more on your path options.
 

Graduate students

For graduate students to earn a Master of Science degree with a major in Physician Assistant, the PA Program offers both a traditional two-year graduate program as well as a three-year program for people already busy with their career.

Two-year program (full-time)

In the first year of the two-year graduate program, you will engage in didactic coursework in the medical sciences and related educational experiences. Classes are scheduled in summer sessions as well as regular fall and winter semesters. 

During your second year, you'll acquire clinical expertise through a broad range of intensive clinical rotations, community health education and health projects with medically underserved communities. Clinical work is scheduled in summer sessions as well as in the regular fall and winter semesters.

You will complete your course of study with a preceptorship in primary care medicine.

Three-year program (part-time)

A three-year course of study is also available, designed for working professionals. Graduate students in this track divide the didactic coursework over a two-year period rather than one. The clinical year is then completed in the same manner as the traditional two-year program.

 

 

Undergraduate students

While the PA Program itself is for graduate students, University of Detroit Mercy also offers undergraduate pathways toward the PA master's degree.

Pre-PA program – The Pre-PA program path is for current UDM undergraduate students in any major and it prepares you to enter the Physician Assistant graduate program. When you earn your bachelor's degree, if you meet the criteria at the time of application to the graduate PA program, you'll be guaranteed an interview with the PA admissions committee. This is special consideration for Detroit Mercy Pre-PA graduates only. See the Pre-PA page for details and contact information.
Accelerated Five-Year Program – Detroit Mercy was the first to offer a five-year, entry-level master's degree PA program in Michigan. "Entry-level" means that you enter the University as a freshman and five years later you graduate with both a Bachelor of Science in Biology and a Master of Science in Physician Assistant. Learn more about the Five-Year PA Program.
For curriculum and other program details, see the official PA Program listing in the academic catalog.
The Detroit Mercy PA Program meets educational requirements for you to practice in Michigan. For more licensure information, refer to the state's Bureau of Professional Licensing.
Note: The University has not made a determination of whether Detroit Mercy curriculum meets PA requirements for any other state. Students intending to practice elsewhere should check PA education, practice and certification requirements with each state's licensing board.
Excellent PANCE certification rates
The Detroit Mercy PA Program qualifies you to take the Physician Assistant National Certification Examination (PANCE), and our PA graduates have excellent PANCE certification rates.
See the outstanding Detroit Mercy PA results in a recent PANCE performance report (PDF).
Accredited since 1972
Our program is fully accredited by the Accreditation Review Commission on Education for the Physician Assistant (ARC-PA) and has been continuously accredited since 1972. We are a member of the Association of Physician Assistant Programs and host an AAPA student chapter.
See below for more ARC-PA accreditation details.
 

Accreditation status with ARC-PA

At its September 2023 meeting, the Accreditation Review Commission on Education for the Physician Assistant, Inc. (ARC-PA) placed the University of Detroit Physician Assistant Program sponsored by University of Detroit Mercy on Accreditation- Probation status until its next review in September 2025.

Probation accreditation is a temporary accreditation status initially of not less than two years. However, that period may be extended by the ARC-PA for up to an additional two years if the ARC-PA finds that the program is making substantial progress toward meeting all applicable standards but requires additional time to come into full compliance. Probation accreditation status is granted, at the sole discretion of the ARC- PA, when a program holding an accreditation status of Accreditation - Provisional or Accreditation - Continued does not, in the judgment of the ARC-PA, meet the Standards or when the capability of the program to provide an acceptable educational experience for its students is threatened.

Once placed on probation, a program that fails to comply with accreditation requirements in a timely manner, as specified by the ARC-PA, may be scheduled for a focused site visit and is subject to having its accreditation withdrawn.

Specific questions regarding the Program and its plans should be directed to the Program Director and/or the appropriate institutional official(s).

The program's accreditation history can be viewed on the ARC-PA website.

Related links:

 

Diversity and inclusion

The University of Detroit Mercy PA program is committed to promoting and supporting diversity among our student body. Our mission compels us to ensure that no one is denied access to a Detroit Mercy education based on their gender, race, religion, national origin or economic status. The composition of our student body reflects this commitment. Advancing diversity, equity, and inclusion supports our campus goals for diversifying the faculty and creating an inclusive campus climate for all individuals.

A Detroit Mercy education seeks to integrate the intellectual, spiritual, ethical and social development of our students. A diverse student body enriches PA education by increasing diverse perspectives that enhance new knowledge and promote opportunities to learn from others with a broad range of backgrounds and experiences. The University of Detroit Mercy PA Program is committed to recruiting students of diverse backgrounds through recruitment, admissions, and support programs that support diversity, fostering the development of competent PAs of the next generation.

 

Tuition and costs

Your costs for the PA Program include tuition and other expenses.

To get your total tuition estimate, use the formulas below with the current tuition rates published on the Student Accounting page. On that page, the Physician Assistant (PA) costs are listed under Graduate Tuition & Fees > Physician Assistant.

Two-year program (full-time) tuition

Multiply the listed PA full-time flat rate by six semesters:

[PA full-time flat rate] x 6 = total tuition estimate

Three-year program (part-time) tuition

Multiply the listed PA part-time flat rate by nine semesters:

[PA part-time flat rate] x 9 = total tuition estimate

Non-tuition costs

In addition to tuition, other PA Program expenses include:

books and medical equipment
local travel to clinical sites
course and certification exam fees

Related links

 

Curriculum

 

Clinical locations

Below is a sample of the clinical sites that provide educational opportunities for Detroit Mercy PA students:

Corewell Health
Ascension
Detroit Medical Center
Henry Ford Health System
Hurley Medical Center
McLaren Regional Medical Center
Trinity Health
Veteran's Affairs Medical Centers
Allegiance Health
University of Michigan Health System

...and many clinics, HMOs and offices in southeast Michigan and throughout the state.

 

Program goals and outcomes

The PA Program Goals & Outcomes page describes the overall administrative mission, vision, goals and outcomes for the Physician Assistant Program at University of Detroit Mercy, and provides metrics for each learning outcome for recent years.

 

William Beaumont Society for PA students

When you accept a spot in the Detroit Mercy PA Program, you automatically become a member of the WIlliam Beaumont Society. Members enjoy social events and a graduation party organized by the Society's board. You are also provided opportunities to volunteer in the community and make meaningful connections with those around you.

According to the William Beaumont Society's vision and mission, the Society was created to best fulfill the purposes of mutual benefit to PA students, their academic institution and the community.  The Society provides a framework to foster academic and clinical excellence in Physician Assistant students.

Follow the William Beaumont Society on Instagram @detroitmercypa.

 

Policy manual for PA Program

The Physician Assistant Program Policy Manual contains a great deal of important information about the PA Program at University of Detroit Mercy and serves as a PA student manual.

For the most recent policies, find the Program Policy Manual on the latest PA Program catalog page.

 

Additional policies and standards

Supplementing the PA Program Policy Manual mentioned above, the Program has set the following additional policies.

Admissions

The Physician Assistant Program will consider applicants who have completed advanced medical training but who are not already licensed to practice as a medical or osteopathic physician in the U.S.. Such applicants must demonstrate, by documentation or examination, successful completion of prerequisite course work equivalents. Such applicants must meet all other admission requirements. Any applicant may also be asked to demonstrate language competency. The PA Program does not award advanced placement.

Employment

The University of Detroit Mercy PA Program does not permit its students to work (paid or voluntary) for the PA Program.

The Program strongly discourages full time students from being employed while enrolled and does not make exceptions or alterations to required course work, scheduling, or rotation assignments for individual students due to employment. Employment status while in the program will not be used to excuse absence from scheduled learning activities, justify poor performance, or be considered as a mitigating factor when assessing students' academic and professional progress.

During supervised clinical experiences, students may not substitute for clinical or administrative staff and must ensure all services provided to patients are directly supervised. Students may not accept compensation for any services provided during supervised clinical experiences unless specifically approved by the Program.

Students may not substitute for instructional faculty even if they have an area of expertise or are a licensed health care worker in a different discipline.

Technical standards

A candidate for the Physician Assistant Program must have the abilities and skills in five categories: observation, communication, motor, intellectual and behavioral/social.

Reasonable accommodation for persons with documented disabilities will be considered on an individual basis, but a candidate must be able to perform in an independent manner. The following skills are required with or without accommodation.

OBSERVATION: Candidates must have sufficient sensory capacity to observe in the lecture hall, the laboratory, the outpatient setting, and the patient's bedside. Sensory skills adequate to perform physical examination are required. Functional vision, hearing and tactile sensation must be adequate to observe a patient's condition and to elicit information through procedures regularly required in a physical examination, such as inspection, auscultation and palpation.

COMMUNICATION: Candidates must be able to communicate effectively in both academic and health care settings.  Candidates must show evidence of effective oral, written and electronic communication skills.

MOTOR: The ability to participate in basic diagnostic and therapeutic maneuvers and procedures (e.g. palpation, auscultation) is required. Candidates must have sufficient motor function to execute movements reasonably required to provide care to patients. Candidates must be able to negotiate patient care environments and must be able to move between settings, such as clinic, classroom building, and hospital.

Physical stamina sufficient to complete the rigorous course of didactic and clinical study is required. Long periods of sitting, standing, or moving are required in classroom, laboratory, and clinical experiences.

INTELLECTUAL: Candidates must be able to measure, calculate, reason, analyze and synthesize. Problem solving, one of the critical skills demanded of physician assistants, requires all of these intellectual abilities. In addition, candidates should be able to comprehend three-dimensional relationships and understand the spatial relationships of structures. Candidates must be able to read and understand medical literature. In order to complete the Physician Assistant degree, candidates must be able to demonstrate mastery of these skills and the ability to use them together in a timely and often critical fashion in medical problem-solving and patient care.

BEHAVIORAL AND SOCIAL ATTRIBUTES: Candidates must possess the emotional health required for full utilization of their intellectual abilities, the exercise of good judgment, and the prompt completion of all academic and patient care responsibilities. The development of mature, sensitive and effective relationships with patients and other members of the health care team is essential. Candidates must possess the ability to effectively function in the face of uncertainties inherent in clinical practice with flexibility, compassion, integrity, motivation, interpersonal skills, and concern for all required.

Candidates must be willing and able to follow program and practice guidelines. They must practice ethically and within legal and regulatory authority.

 

Resources for PA

PA professional organizations

Job and financial aid links

Academic resources

Other professional organizations

Related news

 

For preceptors
PA Program faculty and staff