College of Health Professions & McAuley School of Nursing
Traditional Bachelor of Science in Nursing (BSN)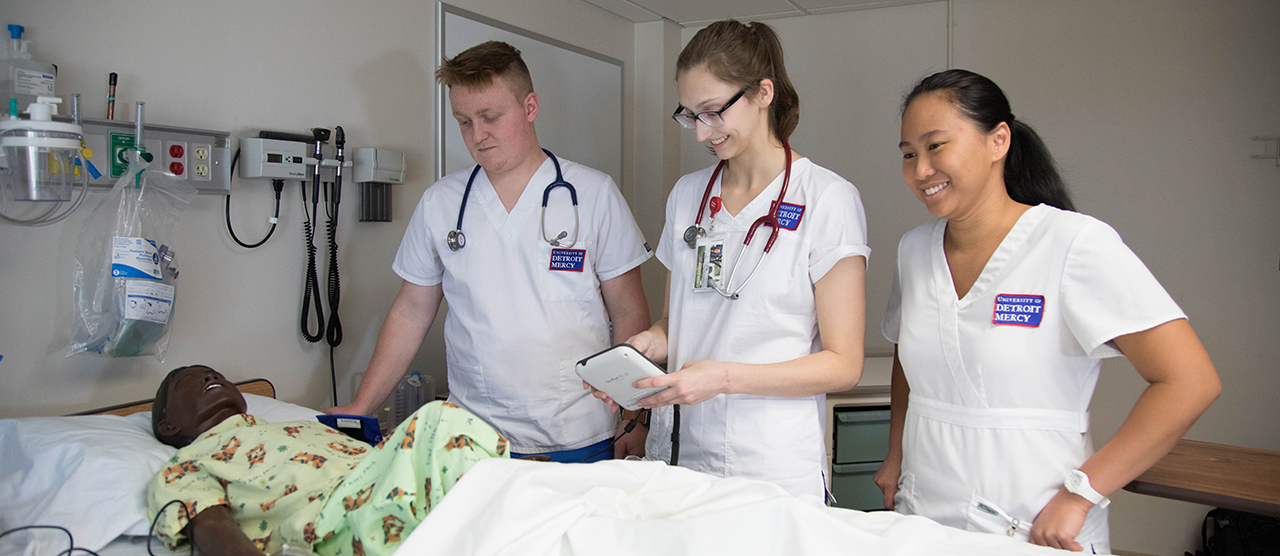 The core of Detroit Mercy's nursing program is our undergraduate nursing curriculum. This program, strongly focused on nursing in the community, is founded on the sciences and the liberal arts, and strives to foster critical thinking.
Its aim is to educate nurses competent to provide contemporary clinical care, make critical decisions within an ethical framework, communicate effectively, exercise leadership/management skills, and coordinate health promotion, risk reduction, and illness or disease management strategies for clients.
The McAuley School also maintains numerous partnerships with community and health care agencies to provide a variety of clinical experiences for students. This BSN track is full-time only.
Why choose Nursing at Detroit Mercy?
Detroit Mercy's Nursing program has a 100 percent placement rate for graduates, meaning you will find a job.
The average salary for a nurse is $70,00 per year, according to the Bureau of Labor Statistics.
Detroit Mercy is affiliated with nearly every hospital system in southeast Michigan, allowing students to learn different healthcare systems and specialties.
Small class sizes. Personalized attention is important at Detroit Mercy and our small class sizes allow for plenty time with professors.
Nationally recognized faculty. Our faculty have worked in the field, and many have a Ph.D. or highest available degree in their field of expertise.
The Baccalaureate degree in Nursing at University of Detroit Mercy is accredited by the Commission on Collegiate Nursing Education, 

655 K Street NW,

Suite 750 Washington, DC 20001, 

202-887-6791

.
 

Admission Requirements

First Year Students (Freshmen)

First-year students are admitted directly to the McAuley School of Nursing from high school. Applicants to the BSN program must meet the University's general entrance requirements of an overall cumulative GPA of 2.5 and minimum scores of 21 on the ACT or 1000 on the SAT if completed before May 9, 2016 (1060 on the SAT if completed May 9, 2016 or after).

In addition, they should have completed at least the following preparatory high school courses:

Four units of English
Two units of laboratory science (chemistry and biology)
Two units of mathematics
Two units of history or social science

All students seeking admissions to this program must pass a criminal background check and drug screening.

 

Outcomes

Upon program completion, BSN students are expected to meet the following program outcomes:

Provide compassionate care with a commitment to social justice.
Evaluate culturally sensitive person-centered care practices in health promotion, risk reduction, disease prevention and illness management for the health of people across the lifespan.
Manage the delivery of person-centered care through effective delegation, prioritization and leadership practices.
Use transparent person-centered nursing interventions in assessing the client's environment, prioritizing care and following established health care (institution/agency) policies and procedures.
Use quality improvement models to analyze health care delivery systems and policies that affect the health of people.
Implement knowledge driven actions in professional nursing practice derived from a variety of theoretical perspectives.

 

Sample Program