Bachelor of Science in Nursing

For 60 years, the McAuley School of Nursing has provided high-quality nursing education. Graduates receive an education rich in liberal arts and professional preparation courses through a curriculum that focuses on developing the whole person: mind, body and spirit.
Our students become caring, compassionate and competent nurses, who utilize critical thinking and ethical decision making, effective communication, leadership skills, and promotion of risk reduction and illness management.

Providing Assurance
Detroit Mercy first-year students are admitted directly into our School of Nursing from high school. Unlike other schools, you will gain experience early on during clinical rotations that begin your sophomore year.

Preparing for Success
The Academic Neighborhood is a tool to help you succeed in your classes. Peer educators offer weekly review sessions that follow the same criterion used by faculty. Open labs are frequently available for practicing your motor skills. In addition, NCLEX preparation assessments are embedded into the curriculum to help you pass your licensing exam.

Hands-on Experiences
The Simulation Lab provides real-time healthcare experiences, helping you to critically think about patient care. In the lab, you will determine the care for a fully-interactive simulated patient who is programmed with a healthcare diagnosis. Watch our Simulation Lab demonstration to see for yourself.

Leadership & Service
Our education is founded on the bedrock values of justice and mercy, leadership and service. You will develop a deep understanding of how to affect positive change for the greater good. At graduation, you will be a well-rounded, compassionate professional who can bring a fresh perspective to the workplace and beyond.
Sample Program Plan
 

Sample Plan - Traditional BSN – Detroit

Bachelor of Science in Nursing degree track option for traditional freshmen and internal transfer students.

First Year

Term 1: 16 credits
Term II: 13 credits

BIO 2300 Principles of Human Anatomy & Physiology I (C1) 3 cr

BIO 2310 Principles of Human Anatomy & Physiology Lab I (C1) 1 cr

CHM 1040 General, Organic and Biological Chemistry for the Health Sciences 3 cr

MTH 1010 Algebra (B1) 3 cr

ENL 1310 Academic Writing (A2) 3 cr

PYC 1000 Intro to Psychology (C2) 3 cr

NUR 1000 Freshman Success 0 cr

BIO 2320 Principles of Human Anatomy &
Physiology II 3 cr

BIO 2330 Principles of Human Anatomy &
Physiology Lab II 1 cr

SOC 1000 Intro to Sociology (C2) 3 cr

CST 1010 Speech (A1) 3 cr

PHL 1000 Intro to Philosophy (D1) 3 cr

NUR 1010 Freshman Success 0 cr

 

Second Year

Term 1: 16 credits
Term II: 17 credits

BIO 2410/2420 Microbiology & Lab 4 cr

NUR 3380 Pathophysiology 4 cr

NUR 2100 Intro to Nursing Practice
in the Mercy & Jesuit Traditions (IT 4 & 5) 2 cr

BIO 2040 Nutrition 3 cr

Religious Knowledge (D2) 3 cr

PYC 2500 Lifespan Developmental Psychology
(IT1) 3 cr

NUR 2200 Health Assessment &
Physical Examination 2 cr

NUR 2500 Fundamentals of Nursing Practice
(IT2) 3 cr

NUR 2520 Fundamental Skills Lab 1 cr

NUR 2540 Fundamentals of Nursing
Practicum 2 cr

HLH 2550 Population Health &
Epidemiology (IT3) 3 cr

NUR 2120 Nursing Informatics 3 cr

 

Third Year

Term 1: 18 credits
Term II: 18 credits

NUR 3100 Mental Health Nursing 3 cr

NUR 3150 Mental Health
Nursing Practicum 2 cr

NUR 3200 Med-Surg Nursing I 3 cr

NUR 3210 Med-Surg Nursing Practicum 2 cr

NUR 3300 Pharmacology I 2 cr

NUR 4226 Applied Statistics for Nursing 3 cr

Philosophy or Religious Depth (D3) 3 cr

NUR 3700 Med-Surg Nursing II
3 cr

NUR 3750 Med-Surg Nursing II
Practicum
2 cr

NUR 3310 Pharmacology II 2 cr

NUR 3800 Maternal Child Nursing
3 cr

NUR 3810 Maternal Child Nursing
Practicum
2 cr
ETH 3580 Health Care Ethics (F1) 3 cr
Historical Experience (E1) 3 cr

 

Fourth Year

Term 1: 16 credits
Term II: 12 credits

NUR 4100 Pediatric Nursing 3 cr

NUR 4150 Pediatric Nursing Practicum 2 cr

NUR 4300 Community Health Nursing 3 cr

NUR 4350 Community Health Nursing Practicum 2 cr

NUR 4500 Research and Evidence-Based Practice (IT1) 3 cr

Literary Experience (E2) 3 cr

NUR 4600 Nursing Leadership 2 cr

NUR 4650 Nursing Leadership Immersion 3 cr

NUR 4755 Professional Practice from Mercy and Jesuit Traditions (IT6) 3 cr

NUR 4652 Senior Seminar 1 cr

Aesthetic Experience (E3) 3 cr

Total Credit Hours = 126
Nursing Credit Hours = 63 (theory/didactic = 43, seminar = 1, clinical/practical = 17, lab = 2). Lower Division = 17 credit hours (27%); Upper Division = 46 credit hours (73%)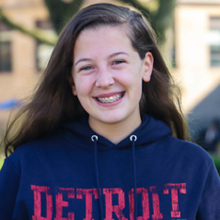 "I chose Detroit Mercy because I would have had to wait a few years to begin a nursing program at other schools. Here, I was able to start right away."
— Alonna M., Clinton Township, MI
RANKED AMONG THE
TOP 25%
OF UNDERGRADUATE NURSING PROGRAMS IN THE COUNTRY
by U.S. News & World Report.
96%
Have passed the National Council Licensure Examination (NCLEX) within 6 months of program completion.
100%
EMPLOYMENT
of our licensed students upon graduation.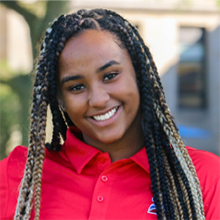 "I felt confident in my clinicals because I was able to perfect my skills in the open labs. The labs aren't crowded so I was able to practice until I felt comfortable."
— Alex R., Belleville, MI
Same Program. Different Campus.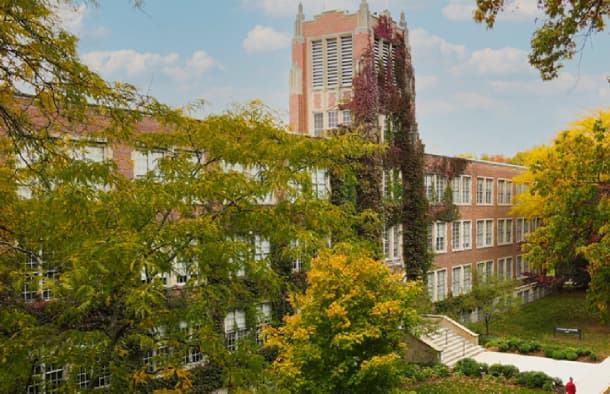 University of Detroit Mercy also offers a 4-year baccalaureate program in Grand Rapids, MI. This unique partnership with Aquinas College and Mercy Health Saint Mary's provides the opportunity for freshman and transfer students to earn the same Detroit Mercy Bachelor of Science in Nursing entirely at Aquinas College.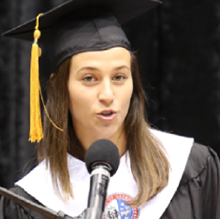 "Detroit Mercy prepared me to become a strong advocate at the bedside and a confident leader within the professional nursing community."
— Sara G., Detroit, MI