College of Health Professions & McAuley School of Nursing
Part Time Bachelor of Science in Nursing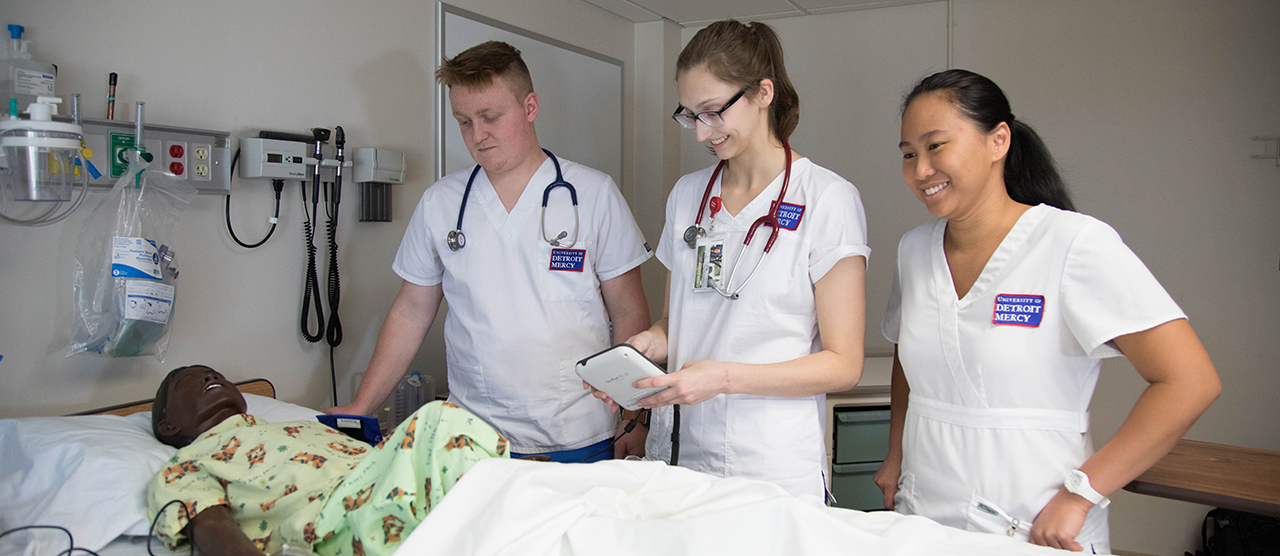 Is it your dream to be a nurse, but you don't have the time to be a full-time student or you can't afford to quit your job? University of Detroit Mercy has the program for you. The new Part Time Bachelor of Science in Nursing (PT-BSN) track allows students to limit their nursing and clinical obligations to three days per week and have the luxury of four consecutive days off.
"The launch of the new part-time track in the rigorous bachelor of nursing program will allow working adults an opportunity to pursue a BSN degree at a reasonable pace to promote success in the academic setting while keeping those important commitments in life – work, family and caring for oneself," said Neal Rosenburg, Ph.D., M.S., RN, dean of the College of Health Professions. "I am thrilled to see this track begin at Detroit Mercy as we open up new possibilities for individuals seeking a career in nursing."
Benefits of the BSN PT
Four consecutive days off. Having four straight days off allows students to work and have a more flexible home-life balance.
The program operates year-round, which allows students to graduate in eight semesters (roughly 2 ½ years).
Save money on tuition with a discounted block rate, and lock in your tuition rate for the entire program.
Enjoy the same 28 nursing courses (66 college credits) as the full-time BSN track.
Why choose Nursing at Detroit Mercy?
Detroit Mercy's Nursing program has a 100 percent placement rate for graduates, meaning you will find a job.
The average salary for a nurse is $70,000 per year, according to the Bureau of Labor Statistics.
Detroit Mercy is affiliated with nearly every hospital system in southeast Michigan, allowing students to learn different healthcare systems and specialties.
Small class sizes. Personalized attention is important at Detroit Mercy, and our small class sizes allow for plenty time with professors.
Nationally recognized faculty. Our faculty have worked in the field, and many have a Ph.D. or highest available degree in their field of expertise.
The Baccalaureate degree in Nursing at University of Detroit Mercy is accredited by the Commission on Collegiate Nursing Education, 

655 K Street NW,

Suite 750 Washington, DC 20001, 

202-887-6791

.
 

Overview

The core of Detroit Mercy's nursing program is our undergraduate nursing curriculum. This program, strongly focused on nursing in the community, is founded on the sciences and the liberal arts, and strives to foster critical thinking.

Its aim is to educate nurses to provide contemporary clinical care, make critical decisions within an ethical framework, communicate effectively, exercise leadership and management skills, and coordinate health promotion, risk reduction, and illness or disease management strategies for clients.

The McAuley School also maintains numerous partnerships with community and healthcare agencies to provide a variety of clinical experiences for students.

 

Admission Requirements

A minimum undergraduate cumulative grade point average of 3.0 is required. Admission to the program is selective and competitive. Prospective applicants are encouraged to submit their application and all supplemental materials in advance of the deadline. 

We are now accepting applications for Winter (January) 2021. Complete applications will be reviewed and considered on a rolling basis with a deadline of September 1. Applicants are encouraged to submit the application and all required documents in advance of the deadline to allow time for feedback. Only completed applications, including submission of all supplemental documents and official transcripts will be reviewed by the admissions committee.

The courses listed below, in addition to courses under Knowledge Areas A-F of the University's core curriculum must be completed prior to the start of the program. Applicants will be considered for starting the program with no more than four outstanding University core courses. Please refer to the Nursing Transfer Equivalency Table to view course equivalencies.

Academic Writing
Intermediate Algebra
Introduction to Psychology
Developmental (Lifespan) Psychology
Introduction to Sociology
Health Care Ethics
General Organic and Biological Chemistry
Anatomy
Physiology
Microbiology & Lab
Nutrition

All science courses, including mathematics, must have been completed within the last five years with grades of C+ or higher on each. If courses have been repeated, a grade of B or higher is expected (no more than two repeats of the same course or three total repeats will be accepted). Substitutions are limited to upper-division mathematics (not statistics) and full-sequence chemistry with achieved grades of C+ or higher on each without repeat attempts (General Organic and Biological Chemistry).

The Part-Time BSN selection committee reserves the right to modify.

Supplemental Application Materials


Official transcripts from all colleges/universities attended.
If you have prerequisite courses in progress, please provide a printed copy of your current registration/course schedule.
Applicants are responsible for forwarding updated transcripts, upon conclusion of each term/semester, posting results of recently completed academic course work.
One letter of recommendation on official business or institutional letterhead must contain an original signature and the reference's professional title with contact information.
Resume
Applicants who are non-citizens or non-permanent residents of the United States, please note additional requirements for International Students.

Selected applicants will be invited for an interview with the admissions committee.

ALL Supplemental documents must be uploaded to your personal admissions portal. Directions will be provided upon a submitted application. Official transcripts are required to be sent directly by the school. Electronic delivery is preferred admissions@udmercy.edu.

Costs & Financial Aid

All applicants are encouraged to complete the Free Application for Federal Student Aid (FAFSA) early-within the application process, ensuring the University of Detroit Mercy's school code is indicated (002323). This will help to ensure timely processing of a financial aid award at the appropriate time.

For additional information regarding program costs and financial aid, please visit the following links. Questions may be directed to Denise Morabito of the Office of Financial Aid at morabidc@udmercy.edu or 313-993-1405.

Contact Nursing Outreach Coordinator Jenny Duncil at dunciljl@udmercy.edu or 313-993-2455 to learn more about the special discounted rate for the PT-BSN program.


 

Outcomes

Upon program completion, BSN students are expected to meet the following program outcomes:

Provide compassionate care with a commitment to social justice.
Evaluate culturally sensitive and person-centered care practices in health promotion, risk reduction, disease prevention and illness management for the health of people across the lifespan.
Manage the delivery of person-centered care through effective delegation, prioritization and leadership practices.
Use transparent person-centered nursing interventions in assessing the client's environment, prioritizing care and following established health care (institution/agency) policies and procedures.
Use quality improvement models to analyze health care delivery systems and policies that affect the health of people.

Implement knowledge driven actions in professional nursing practice derived from a variety of theoretical perspective.

 

Sample Program