Part and Full Time Bachelor of Science in Nursing (BSN)
Part and Full Time Transfer Options for a Bachelor of Science in Nursing Degree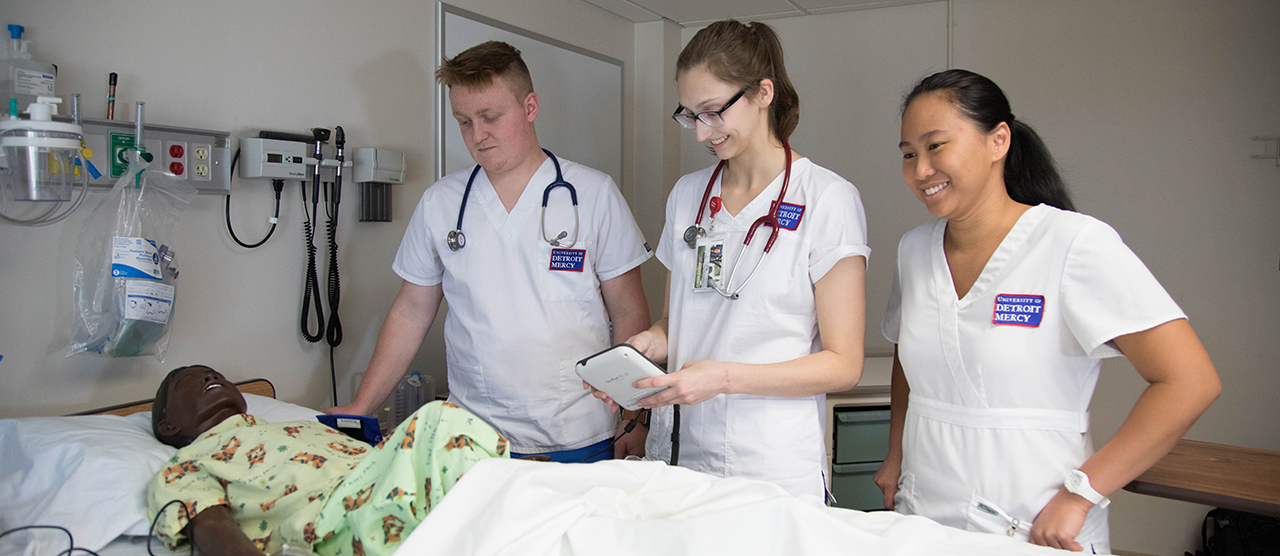 Detroit Mercy's Part and Full Time transfer options offer classes in the Fall and Winter semesters. Both options allow the flexibility during the summer semester to work, complete core courses, or simply enjoy some time off.  All pre-requisite courses must be satisfied before the beginning of the program.
Benefits
Flexible curriculum plan
Face-to-face and hybrid course delivery
Education mission driven with a focus on social justice and community service
Clinical rotations in a variety of settings
Outcomes
Find out what it means to get your BSN from Detroit Mercy on the BSN Outcomes Page.
Sample Plan
For a sense of the program curriculum, view the sample program plans:
Admissions Criteria
We are now accepting applications for Fall (August) 2023. The application deadline is May 15, 2023, however, applicants are encouraged to submit the application and all required documents in advance of the deadline to allow time for feedback. Complete applications will be reviewed and considered on a rolling basis.
A cumulative GPA of 3.0 is preferred
All sciences and math must be completed within the last seven years, and with a minimum of a "C"
Applicants are permitted three repeat prerequisite courses; however, an individual prerequisite class cannot be repeated more than twice. 
All prerequiste courses below must be completed before the start of the program; however, if the courses in bold are complete, your application will move forward to be considered for conditional admission.

Anatomy and physiology lectures and labs
General Organic Biochemistry for health sciences
Intermediate algebra
Academic Writing
Introduction to Psychology
Introduction to Sociology

Full Time Option: Courses that can be added into the program as the student matriculates: 

Health Care Ethics
Non-supportive core courses 

Part Time Option: All supportive and non-supportive core need to be taken prior to the start of the program if the curriculum plan is to be implemented as written.

If students choose to not complete all supportive and non-supportive courses prior to the program start, they may have semesters that are full time. Full time status can affect a student's financial aid. 
Courses that can be added into the program plan as the student matriculates: 

Health Care Ethics can be taken while matriculating during semester 2,3, or 6 to maintain part time status.
Developmental Psychology is required before 3100 Mental Health Nursing but can be taken while matriculating prior to semester 5.
Non-supportive core courses (may change student status to full time)
 Supplemental Application Materials
Official transcripts from all schools attended, including high school. HIgh School transcripts are required to receive Financial Aid (FAFSA), but will not be viewed or considered in the admission process
Resume
Letter of intent: Minimum of one page including a summary of candidate's interest in nursing, and choice to attend the University of Detroit Mercy, McAuley School of Nursing. Additionally, it should include any skills, attributes, or professional aspirations that the candidate wishes to be considered for admission
Letter of recommendation: One letter of recommendation should be provided from a source that can attest to the professional attributes of the candidate; examples include but are not limited to, letters from previous employers, previous or current instructors, organizations where the candidate was involved in providing professional services or volunteer work. You will be prompted to provide the name/email address of the person providing your letter of recommendation when completing the online application. 
Monthly Information Sessions
The McAuley School of Nursing offers monthly information sessions to provide an overview of the Nursing track options and admission requirements. Sessions are interactive and provide time for questions. When you register for a session, you will be provided a zoom link and detailed information.
Costs and Financial Aid
All applicants are encouraged to complete the Free Application for Federal Student Aid (FAFSA) early in the application process, ensuring the Detroit Mercy school code is indicated (002323).
Questions regarding financial aid may be directed to: 
Denise Morabito, Financial Aid Coordinator
morabidc@udmercy.edu 
(313) 993-2455